DIY Components for Circuit Projects

You asked and we listened!
If you harbor the DIY Spirit like many do,
you want to do it yourself and do it your way.
Up until now there were no options for popular components such as rotary encoders, rotary switches, thumb-sticks and "Funky Switches" that did not demand of the user some precision soldering and assembly requirements. The components are really for manufacturers in their raw state, and you no longer have to suffer the tedium of sourcing, soldering and assembling these.
We have developed our own proprietary circuit boards and knobs to make the use of these components perfectly simple and without hassle. With our DIY Components you just hook them up to our electronics (or any electronics with standard pin headers with 0.100" spacing - that's nearly all of them - and you're GOLDEN!
No wasted time!
No Errors!
No Frustration!
No Soldering!

All GO and SUPER EASY!


NOTE VERY CAREFULLY:
These are DIY components, and you are responsible for the use, integration and configuration into your own project space and use scenario. We have provided every relevant detail, fact and piece of technical data necessary to use these components as we claim. Your are expected to refer to our technical reference material in order to use these components correctly. What we have published here is the extent of what is needed and we will not provide user-specific help for DIY projects and any support requests will be directed to this page and our Circuit Technical Reference Guide
HERE
.
Be further advised that we will not take special or custom orders. This means that what you see in the photos is exactly what you receive. We are not offering these components any other way under any circumstances. Hexnuts to mount install the encoders and rotary switches are provided; panel thickness less than 3.5mm/0.125" recommended. You must supply your own hardware to install the Funky Switch and Pot Stick; use SAE #2 screws to fit the holes on the PCB.
EACH AND EVERY ONE of these components are individually tested under strict quality control standards to ensure proper function and performance. We know them to be properly functional when we ship your order for them to you. All sales of these components are final. You will receive all necessary jumper wires to connect to your electronics and knobs will be included with the component (the knobs in the photos are the knobs you will receive); rotary switches and rotary encoders have 1/4"/6.35mm shafts and the Funky Switch and Pot Stick have non-standard shafts requiring our proprietary knobs to operate. Your components will be individually packed in 3M anti-static envelopes. All new orders for these components will be shipped within 10 days.
You may connect these to our DSD 32 Button Controller, Micro32 Button Controller and 12Bit controllers. You must use a matrix for 12b controllers and you must group/chain all of your ground (GND) connections on your components to connect to the one ground pin on the Micro32. Use any of the 34 available ground (GND) pins on our DSD 32 Button controller.
Be assured that any use issues or anomalous behaviour will be prevented by ensuring each one is connected precisely as we show in our
DATA SHEET HERE.
With this in mind, let's get on with why you're here!
New orders ship within 10 days - Thank you!

---
---
---
---
---
---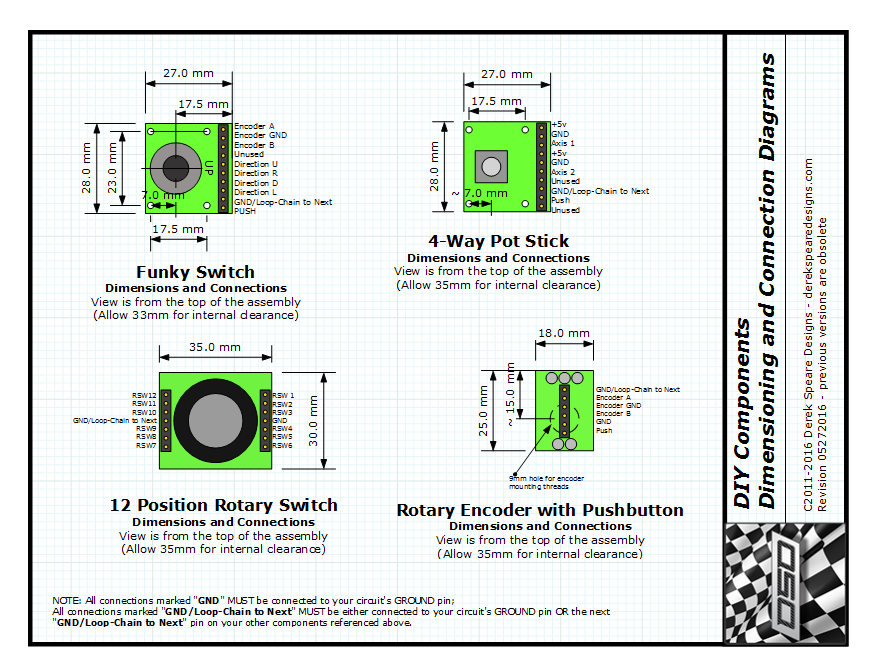 Make sure you reference the DSD Technical Guide for use with DSD Circuits -
found here
.
All DSD Circuits ship within 10 days of order placement and ship for free anywhere in the world!